The new book by the director of the International Security Institute Dr. Orhan Dragaš, entitled "Two Faces of Globalization – Truth and Deceptions" was presented in Belgrade in the presence of members of the Serbian government, foreign diplomats, editors of the largest media, scientists and researchers, as well as representatives of large companies. "Two Faces of Globalization – Truth and Deceptions" is a study dealing with the state of globalization in all its aspects today, a decade after the global financial crisis, and it followed as a result of his post-doctoral studies at the prestigious London School of Economics and Political Sciences.
In addition to the author, the first vice-president of the Government of Serbia, Ivica Dačić, professor at the Faculty of Philosophy in Belgrade, Dr. Nikola Samardžić, who is also the author of the preface, then Professor at the Faculty of Security, Dr. Zoran Dragišić, who is one of the reviewers spoke about the book and aspects of contemporary globalization. 
Presenting his research, Dr. Orhan Dragaš said that globalization is not threatened today,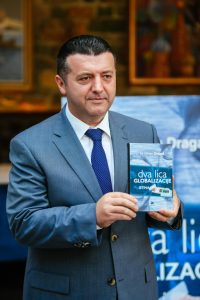 that it changed its forms and intensity to a certain extent after the crisis in 2008, but that it cannot be reversed or even stopped. "It is a process, not an ideology, a process that is generated by technology, economics and political decisions, and therefore it is impossible to resist it and try to stop it, but it is necessary to adjust sails to its winds," the author said.
The book deals in detail with the state of globalization today, especially in the United States, the European Union and China, as economically and politically most influential actors of globalization, as well as the range of populist movements around the world as factors of endangering and slowing down global integrative processes as well as the impact of conflicts and new communication technologies on today's globalization.
Among the reviewers of Dr. Dragaš's book are some of the world's most influential researchers and international relations experts, such as the longtime diplomat and Dean of Trinity College at Oxford University, Ivor Roberts, Sussex University Professor Neil Dooley, Jonathan Grant from the British Kings College, Chinese Fudan University Zhang Jiadong, Ephraim Lapid from Israeli Bar-Ilan University, economics professor at Istanbul University Altinbas Emre Alkin, sociology professor Marco Lombardi from the Catholic University of Milan…
The book "Two Faces of Globalization – Truth and Deceptions" was published by the Belgrade publishing house "Albion Books"